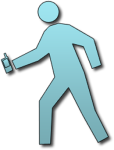 Mobile Grid Client is a Second Life messaging client for Android powered cell phones and tablets like the Samsung Galaxy, Google Nexus and Sony Xperia series to name just a few.
Simple, fast and efficient. Mobile Grid Client generates just a fraction of the traffic other Second Life viewers do. Due to its unique client/server architecture all irrelevant data is sorted out and only absolute necessary data is transferred to your device. This way Mobile Grid Client saves your phone's battery and your data plan.
Local chat and instant messages – chat with your friends, groups or someone else.
Teleport to other regions and nearby avatars.
Region map with accurate positions of other avatars.
Profiles – look at your own and others profiles.
Full inventory manipulation – rename, move and delete items and folders.
Designed with usability in mind – simple and intuitive to use, tap chat and instant messages to get more information about the sender and interact with them.
Always on feature – stay logged in while answering phone calls or carrying the phone in your pocket.
and much more…
Try it out now! Download Mobile Grid Client via the Google Play on your Android powered phone or tablet and test it 28 days for free.
Some screenshots