Mobile Grid Client can be downloaded for free, but to use the service you need a valid license. Payment is done inworld on next login after your current license has expired and by the avatar used for login. The client will ask you explicitly for payment.
If you log in for the first time you get a 28 days demo license for free. The Demo version license is feature equivalent to the Pro version license.
Different license versions
There is a Standard and a Professional version license. The Standard version is limited in some aspects, have a look at the comparison table below. The Standard license is only available on a monthly basis while the Professional version is also available on a yearly basis. License fees are NOT recurring, you always get asked before renewal and payment.
Features
Std version
Pro version
L$250/month
L$450/month
L$4500/year
local chat
send and receive instant messages
send and receive group messages
receive group notices
copy chat and IM logs to clipboard
manage your friendlist (offer and cancel friendships, answer friendship offers)
send and receive teleport lures
integration with SLurl.com and secondlife:// links
view profiles
teleport to picks and landmarks
teleport to nearby avatars
give card (calling card)
give inventory items and folders
inventory manipulation (rename, move and delete items and folders, create folders)
create notecards
copy notecard content to clipboard
change your active group
send group invitations and leave groups
receive group invitations
nearby avatars list
mute/block list
region map
region map and nearby avatars list update interval
10s
5s
local chat distances update interval
30s
15s
message on received payments
make payments (give money to avatars)
inactivity timeout when application is in background
8h
24h
support for Open Simulator grids (this feature is in beta stage, teleports and group handling may not work as expected)
auto answer IMs with customizable message if in background or screen is off
How to acquire a license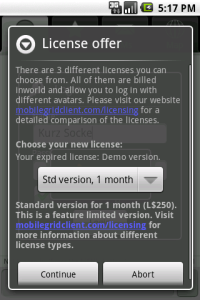 No special action is required. The client itself will offer you a license on login if your current one has expired.
If you log in for the first time you automatically get a 28 days demo license for free.
For Android from Version 10 and up the license will be tied to an user-selectable Google account.
For Android until version 9 the following two cases apply:
For phones with a SIM card (e.g. GSM and UMTS phones) the license will be tied to the SIM card (SIM card serial number). For CDMA phones and other phones without a SIM card the license will be tied to the phone itself (in case of CDMA phones to their MEID). That means once you have acquired a license you can use it with different avatars. And if you are using a GSM or UMTS phone you can even change your phone as long as you use the same SIM card.