With the latest version (1.5.408) of the client it's now easier to teleport around in Second Life and to stay in contact with other people. Your profile now also lists your landmark and calling card inventory folder. Only the elements in the root of these folders are displayed. Duplicate calling cards are only displayed once.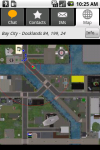 The map also got some small enhancements and additionally shows now three red circles around your avatar indicating the chat distances (whisper, say and shout). Those of you who want to listen to the parcels music stream now have the ability to retrieve the parcel's music URL (The guys from DroidLive are working to support the launch of the stream with just a tap).
All log messages (on/offline messages, inventory offers, …) are now logged in the local chat list.